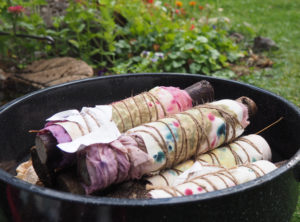 Upcoming Classes and Events
2021
---
Shetland Wool Week Virtual course – Living and Dyeing with the Environment.  Sept. 26th or Sept. 29th (class is taught twice)  Learn to dye using Elderberries and Nettle Leaves on three different yarn bases from Uradale Farm.  We will create 12 different shades of color, learn about the food and medicinal uses of these plants, and get to know more about Uradale Farm and their Shetland sheep!
Southeastern Animal Fiber Fair – SAFF – Oct. 22 – 24, Expo Building booth 30/31.  I will be bringing ecoprinted scarves, sock blanks, and cards, naturally dyed yarns, indigo cloths, teas, photography note cards, and lots more.  Stop by and say hi!
Classes Offered (This is just a sampling.  Do you have something else in mind?  Please reach out.)-
Natural Dyeing 101
Herbs for Food, Medicine, Dye, & Fiber!
Primary & Secondary colors from 3 plants
Prints & Pens – Eco printing paper, naturally dyed ink, & hand crafted Quills
Eco printing – on Silk, Sock Blanks, Cotton, Wool and many other mediums
Dyeing with Indigo – fresh, salt, ice, prepared vats
and many more!