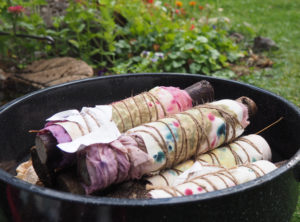 Upcoming Classes and Events
2020
---
Indigo dyeing on the homestead

April 25, 10 – 6. 

Postponed until Oct. 10th

.   A full day of learning about and playing with Indigo; with myself and Marceline Smith, AKA Hey Brownberry.
Ecoprinting with Silk – Cancelled so that we can social distance properly!  May 1-3 – A full weekend retreat at the Yadkin Valley Fiber Center, NC

Silk Scarf Ecoprinting – Playing with Nature's Colors

– Cancelled so that we can social distance properly! May 24 at the UNC Charlotte Botanical Gardens' Bigleaf Magnolia Art and Garden Festival
EcoPrinting on Silk and Cotton Rescheduled in 2021 Saturday, July 25th at The Knittin Coop in Salem, Virginia.  Contact Robin at theknittingcoop@gmail.com
Indigo Day – Rescheduled in 2021 harvest, prepare, and dye with fresh indigo. Salt and ice dyeing, and a prepared vat. August 22, on the homestead
EcoPrinting at Prado de Lana Rescheduled to a later date in Stockbridge, MA, Sept. 12 – Details to come
EcoPrinting for Fall – Rescheduled in 2021 Sept 26, on the homestead
Southeastern Animal Fiber Fair – SAFF – Cancelled Oct. 23 – 25, Expo Building booth 30/31.  I will be bringing ecoprinted scarves, sock blanks, and cards, naturally dyed yarns, indigo cloths, teas, photography note cards, and lots more.  Stop by and say hi!
Classes Offered (This is just a sampling.  Do you have something else in mind?  Please reach out.)-
Natural Dyeing 101
Herbs for Food, Medicine, Dye, & Fiber!
Primary & Secondary colors from 3 plants
Prints & Pens – Eco printing paper, naturally dyed ink, & hand crafted Quills
Eco printing – on Silk, Sock Blanks, Cotton, Wool and many other mediums
Dyeing with Indigo – fresh, salt, ice, prepared vats
and many more!